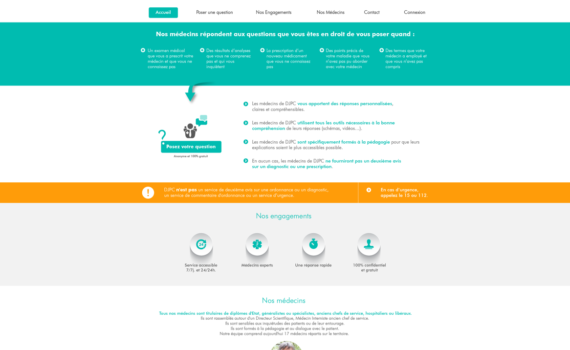 Docteur J'ai Pas Compris
Project description
Building a collaborative platform to exchange patients and doctors (www.docteurjaipascompris.fr). « Docteur J'ai pas compris » means « Doctor, I did not understand ».
Project specificities
Project led with Décimale Solution to collect customer needs and to define visual identity charter.
Set-up ads banners as service is free for now.
Achievement
Two modes for the platform: 1 public part (showroom) and 1 connected part (for patients, doctors and administrator)
Public part is built with a « one-page » layout. Everything is displayed on a single page.
Patients can only access their topics.
Doctors can see « questions with no answers yet » and « their on-going questions ».
Administrators can see all questions. They are able to add and delete patients and doctors.
Notification are sent by e-mail. Patients have to log-in to see answers. Whereas doctors have discussions content into the e-mail.